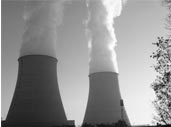 ENERGY
KURY GROUPE is involved in designing, developing, testing, verificating and validating systems as well as in Nuclear Safety and Opeating Process.
Electricity and I&C

S

tudies for I&C architecture design and modifications for nuclear power plants.


D

esign of electrical systems (switchboards, chargers, instrumentation, diesels, cables...).


A

utomatic Validation processes for nuclear power plants systems designs (simulation).



Safety

S

afety licensing, Safety reports - feasibility safety assessment for I&C systems.


H

azard studies (fire, explosion hazard, flood, ...) and set up of related processes.


L

oss of electrical power supply support studies and risk analysis.



Operating Process

F

luid Systems Design within a nuclear power plant, in the nuclear island, conventional island and balance of plant.


A

nalysis and design of emergency (accidental and incidental) operating procedures for nuclear power plants.



HVAC

M

odelisation of thermal dissipation, heat loads and exchanges.


D

esign and modification of HVAC systems.



R

esponse to calls-for-proposals in the context of New Nuclear Builts. Technical support to offshore teams.